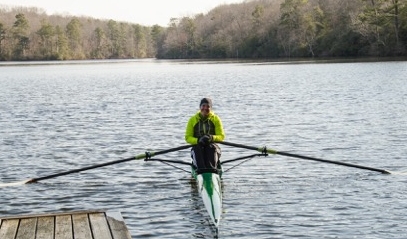 Dear Novice Rower,
Let's talk about you, and how you want to quit. Let's create a safe space and talk about it.
Ready? I'll get us started.
When I started rowing, the fire of infatuation started on the first date. I loved the boathouse full of sleek shells, the river, the camaraderie...everything. I had a great first year and went into the winter riding high after a successful novice head race season. All the winning! All the medals!
For me, the crash came sometime during the next spring.
For just about anyone who has tried something new, it's a familiar scenario. You jump in, you're enthusiastic and motivated...time spent in your new pursuit is exciting. Gains come quickly and you are making noticeable and continuous forward progress. It's fun. So much fun!
Until it's not.
Every practice I was getting called out.
"Laura, your catch is late."
"Still late."
"Still late."
"Three seat, everyone is picking up the boat for you." Relief. Oh wait, that's still me.
I cried almost every morning in the car on the way home from practice. It's hard for me to admit this, because rowing. And crying. It's also possible that I listened to bad music while this was happening.
Back story: I had left virtually every other sport I participated in (triathlon, distance swimming…) and it was like breaking up with your old boyfriend to date this new exciting guy, and then things aren't working out and omgwhatdidijustdo....
A friend (thank all the things for friends) suggested that I was in "The Dip."
It seems that when you start a new endeavor after a while things take a turn. You are hyper aware of what you don't know and where you fall short. Forward progress is incremental or non-existent. Setbacks are par for the course. All of the low hanging fruit is gone. And you wonder...where do I go from here?
Clearly, it's time to quit.
Or is it?
The Dip is very common place in which you will feel like quitting, and many do quit, yet excellence lies on the other side.
Plenty of my fellow novice rowers quit during The Dip. Quite possibly, that was the decision that was right for them. Only you know if this is your battle to fight.
Seth Godin's book The Dip is an 80-page manual that will help you determine when to stick and when to quit. As Godin says, "Winners quit fast, quit often, and quit without guilt--until they commit to beating the right Dip for the right reasons."
Own a copy of this book.
Keep it near and dear.
Are you staying? Then Dear Novice Rower, get on that winter training because docks will be in before you know it. Great things are going to happen for you.
And if you need to cry about your catch? Come and find me. I give free hugs, I buy beer and coffee, and we need never speak of it again.
Your teammate,
Laura
Laura Schmieg is a member of the Minneapolis Rowing Club. She is a national gold, silver, and bronze medalist and a Head of the Charles enthusiast who would like to add a medal at the Charles to her collection. She is currently working towards her Level 2 coaching certification. Before falling head over heals in love with rowing, she competed in a tapestry of other sports, including triathlon, open water distance swimming, trail and road running, cross-country skiing, and power lifting. When not on the water, Laura enjoys getting to know her husband Jeff and two kids, Jonah (12) and Eliza (9). She lives on what she likes to think of as a small urban hobby farm in St. Louis Park, Minnesota, with lots of gardens, two cats, and two (soon to be more) chickens.